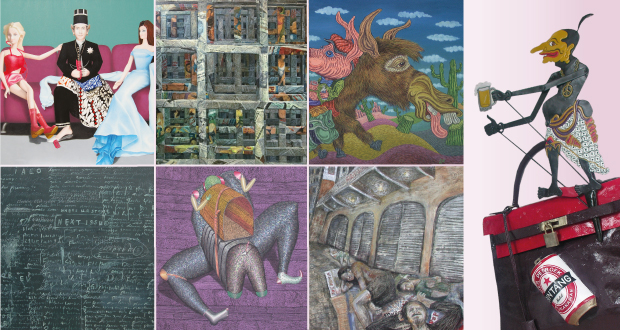 Top (From left to right): Samsul Arifin, Budi Ubrux, Riki Antoni
Bottom (From left to right): Alfi Jumaldi, Edo Pop, Gusmen Heriadi
Right Corner: Sri Astari Rasjid (sculpture)
In the month of September, the gallery will showcase works by Indonesian artists Budi Ubrux (b.1968), Samsul Arifin (b.1979), Alfi Jumaldi (b.1973), Sri Astari Rasjid (b.1953), Gusmen Heriadi (b.1974), Edo Pop (b.1972) and Riki Antoni (b.1977). Ranging from oil and acrylic paintings to sculptures, these works were painted between 2001 and 2009, during the early stages of their artistic careers. The works reflect upon the realities of the modern world and are driven either by personal experiences of the artists or their individual inquiries into the socio-political and cultural issues that has afflicted their society.
_____________________________________________________________________________________________________________________________
Budi Ubrux (b. 1968)
Born in Semarang, Indonesia, Budi Ubrux has been engaged in numerous art-related works upon his graduation from the Yogyakarta Senior Visual Art School, before emerging as a dedicated full-time artist. The Grand Prize Winner of the Philip Morris Indonesian Art Awards in 2000, he has exhibited extensively both locally and overseas, including Switzerland, Russia, China and Korea. His works are powerful in reflecting the political and social realities of our time, such as the ironic role of the media, conveyed through unique faceless figures mummified in newsprint.
Alfi Jumaldi (b. 1973)
Born in West Sumatra, Alfi Jumaldi is twice the finalist of The Indonesian Art Award, and has widely participated in a numbers of exhibitions and art fairs in Indonesia, Singapore and China. He is also a founding member of the Jendela Fine Arts group, which supports artists in Yogyakarta. Alfi's works are a quest for self reflection, revealing his own inner struggles by employing metaphorical symbols. Viewing Alfi's works, one can detect a sense of disquiet and beauty, mingling in a surreal landscape.
Edo Pop (b. 1972)
An active member in the Indonesian art scene, Edo Pop cofounded the Bidar Sriwjaya workshop and Muara Art House. He also participated in overseas solo and group exhibitions in Denmark, USA and Canada. Concerned with materialistic consumerism, his estranged, eccentric figures are caricatures formed by excessive lifestyles. At times a female character holds her head above a cartoonesque body, reflecting an absence of thought, as people become consumed with the material.
Samsul Arifin (b. 1979)
Born in Malang, Indonesia, Samsul Arifin established himself as a multi-talented artist. In 2001, he won both Indonesian Art Institute awards for the Best Watercolour Painting and Best Sketching Work. The artist is often employs, with astute awareness, artistic signifiers in various combinations to construct meanings in his creations. In his series of Barbie Dolls paintings, he has invested much deep thought to effectively manipulate object, colour, space and composition in his works, in criticizing the penetration of imported cultures.
Riki Antoni (b. 1977)
Born in Padang, West Sumatra in 1977, Riki Antoni graduated from the Indonesian Institutes of Arts, Yogyakarta in 2006. His works were widely exhibited in different cities in Indonesia, including the group exhibition of the Artists of Minangkabau held in the National Gallery in Jarkarta. Riki's paintings are a vigorous expression of self and his fascination for the proverbial, his colourful creations probing viewers to question what constitutes civilised behaviour, and the vulnerabilities that lie beneath a vibrant façade.
Sri Astari Rasjid (b. 1953)
Born in 1953 in Jakarta, Indonesia, Sri Astari Rasjid briefly studied English Literature at the University of Indonesia (1973). She went on to study fashion in London in 1976 and subsequently became a fashion journalist and fashion designer. In 1987, Sri Astari honed her art education and technical skills at the University of Minnesota, USA and the Royal College of Art in London in 1998. She was one of the recipients of the Philip Morris Indonesia VI awards and was also one of the winners of the Millennium Painting Competition of the Winson and Newton Awards (1999). In 2013, she participated in the Indonesia National Pavilion at the 55th Venice Biennale Arte. She started her career as a professional artist in the early 90s, actively taking part in exhibitions in Indonesia and abroad. Besides being an artist, Sri Astari has been an active player in the arts world –
As the executive director of the 9th Jakarta Biennale, she realized curator Jim Supangkat's suggestion to introduce installation forks for the first time, and was an important mover as executive committee for the seminal exhibition of contemporary art of the Non-aligned countries in 1995. As a member of the Indonesia Art Foundation (Yayasan Seni Rupa Indonesia), Sri Astari also actively contributes to the education of young artists and the development of art in Indonesia. In early January 2016, Sri Astari was appointed the ambassador of Indonesia to Bulgaria.
Gusmen Heriadi (b. 1974)
Gusmen Heriadi was born in 1974 in Pariaman, West Sumatra, Indonesia. Having graduated from the Indonesian Institute of the Arts (ISI) in 2005, he now works as an illustrator at Tabloid Altternatif Pualiggoubat Mentawai in his hometown. Gusmen has been actively exhibiting his work over the past two decades. He won an award in Indonesia for Space and Image, that is exhibited at Ciputra World Marketing Gallery. He has also been a finalist of both the Philip Morris and Indofood Art Awards (2000 and 2002), and has been honoured with a Special Appreciation at the Jakarta Art Awards in 2006. The objects featured in his paintings are often metaphors of his feelings and inner debates about the issues of culture and tradition in a modern society. Most of his works are products of his dreams, his responses to life, and his philosophical views. These philosophical and critical thoughts are the result of cultural development and family habits, as well as influences from the breadth of his artistic life and pursuits