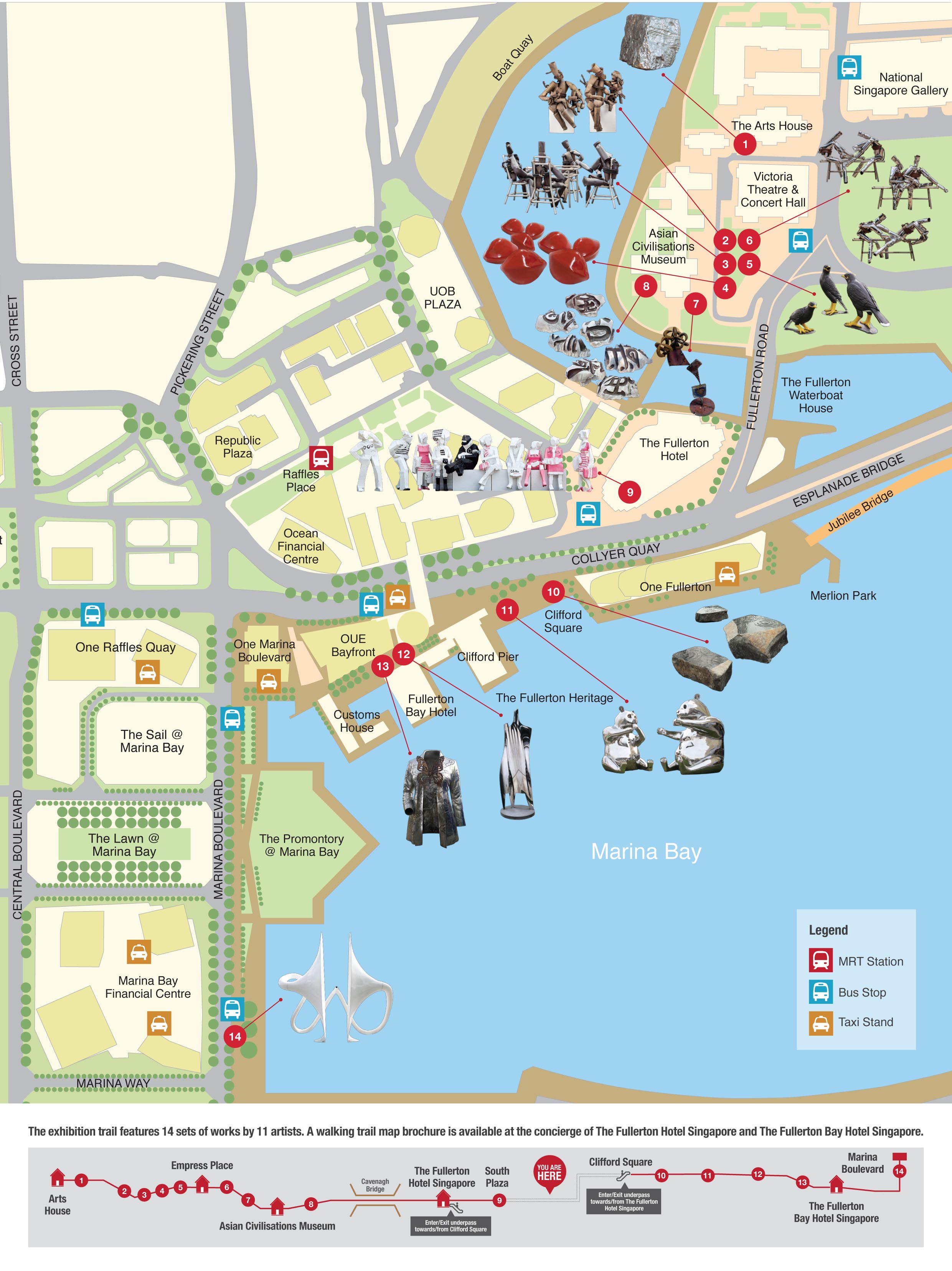 Announcement 04 April 2016: The exhibition will be extended till 23 April 2016
Download Press Release at:  Envision Press Release_5th Jan,  Annex A_ENVISION_List of Artists and Artworks_7thJanv2
Weekly guided tours every Sat at 5pm till 9th Apr. Sign-up for tours at:  http://tinyurl.com/jxjmeo3
Public Talk – The first talk about was held on 22nd Jan, click here for more details.
Share and Follow us on Facebook @ipreciation, tag us at #EnvisionSg
iPreciation is proud to present ENVISION: Sculptures @ the Garden City –  a new platform to exhibit a group exhibition of monumental sculptures by Singapore and internationally renowned Asian artists. For the inaugural exhibition in 2016, ENVISION will present 13 sets of works by 11 artists namely Baet Yeok Kuan (b. 1961, Singapore), Chen Sai Hua Kuan (b. 1976, Singapore), Gu Wenda (b. 1955, China/USA), Ju Ming (b. 1938, Taiwan), Kumari Nahappan (b. 1953, Singapore), Lim Soo Ngee (b. 1962, Singapore), Shen Lieyi (b. 1969, China), Sri Astari Rasjid (b. 1953, Indonesia), Yuyu Yang (b. 1926 – d. 1997, Taiwan), Zhan Wang (b. 1962, China) and Zhang Huan (b. 1965, China) from China, Indonesia, Singapore and Taiwan,
ENVISION is part of iPreciation's mission to promote, exhibit and integrate  public art in Asia; our recent project in Singapore was Ju Ming's monumental Taichi Series held at Singapore Botanic Gardens from Jan – May 2015. In 2016, ENVISION will take place in key urban and cultural zones in the heart of the city, the exhibition trail starts from Arts House, Asian Civilisations Museum, Empress Place, The Fullerton Hotel, Clifford Square, The Fullerton Bay Hotel  and along the Marina Bay Boulevard (near City Gallery).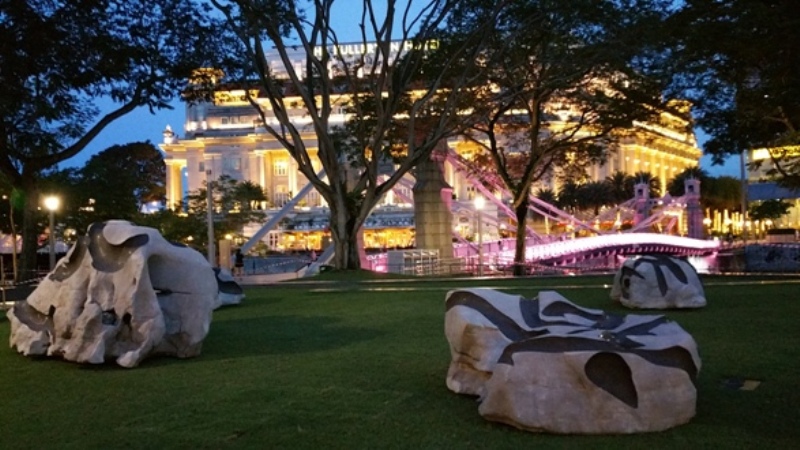 ENVISION is the international debut platform for Gu Wenda's Tian Xiang (above), an important work that took him more than 20 years to conceptualise. Tian Xiang is an installation of 24 'ru' stones in different shapes and sizes, weighing from 500 – 8000KG. These huge pieces of natural stones come from the sea bed, billions of year old lime stone corroded by the sea water. Each stone is inscribed with a simplified stroke of a Chinese calligraphic character that reinforces Chinese solar terms. Inspired by philosophical theories and stories of our celestial universe, Gu sets out to bring man and nature closer. Creating this 'stone forest' in the heart of Singapore's civic district, one has the opportunity to experience, immerse and get up close with these significant relics and artefacts; a product of nature's powerful forces. Image caption below: Tian Xiang, 2014, Stone and ink (24 individual stones).
Ju Ming's bronze and stainless steel sculptures from the Living World Series, (1999-2011) aims to capture everyday scenes of people coming together, playing and going about their daily lives. Ju Ming says "The language and essence of the sculptures are drawn and inspired by crowds that I see, people in the market, people queuing as well as those standing, sitting or walking around. They are constantly happening and constantly ending, which is why the works are named as the Living World. This is the issue and spirit I want to interpret."
Baet Yeok Kuan created an assemblage of abstract geometric forms welded together, perfecetly balanced in mid air supported by a singular base. The sheer scale and rich textural qualities lends gravitas to the work, powerful, striking and beautiful at the same time. Image Caption below: O What a Flower, 2015, Colten steel
Kumari Nahappan has been collecting saga seeds since she was a child, using them as a reference in her work. Saga seeds are commonly found across Southeast Asia, sometimes they are called "love seeds" because of their vivid red colour and round heart-like shape. By arranging the works in clusters, Kumari aspires to harness their collective energy and transmit positivity and joy to the viewer. Image Caption below: Road to Fifty, 2015, Painted fiber glass (50 editions)
Lim Soo Ngee's local Myna birds are identified by their brown body and yellow patch behind the eyes. The artist was inspired to make this work when he discovered that the dominant species of migrant Javan Myna birds has led to the demise and near extinction of the local species. This work raises awareness on man's relationship with the environment to highlight how migratory patterns or external factors can leave an indelible impact on the local population. Image Caption below: Local Mynas, 2015, Bronze and paint (set of 3)
Chen Sai Hua Kuan created an interactive sound sculpture that encourages participation and contemplation from the audience. Many city-dwellers have become too busy to listen, this playful work was conceptualised by the artist to create a conducive space to inspire an act of listening. The shape of the structure appears to be unusual, where the curved lines and organic form creates a sense of curiousity for the viewer, inviting one to come up close to interact with it. This sculpture premiered on the steps of the Grand Palais in Paris in March 2015, and was featured in the International New York Times. Image Caption below: Ling Ting 2, 2015, Steel with paint
Zhan Wang's most celebrated work to date is this series of "artificial rocks" – stainless steel replicas of rocks and boulders. The beaten and irregular surface of this monumental rock is a site of abstraction, pulling the viewer and the surrounding environment into a distorted reality. The undulating surface and choice of material questions the authenticity of thee work, whether it's man-made or natural occurring. Image caption below:Artificial Rock No.133, 2007, Stainless steel (4 editions) 
Shen Lieyi shares that "Man, universe, sky, water, natural forms, all our cultural emotions and existential experiences stem from nature. I think it is my duty as a sculptor to transform the invisible emotions into visible imageries, which are not merely shadows of the thoughts." In traditional Chinese culture, water is symbolic of the yin factor and stone is symbolic of the yang factor. The surfaces of these sculptures look as if rain drops are falling with ripples frozen in time; these lines are permanently etched on the black granite stones. The juxtaposition of hardness and softness creates a strong visual impact, echoing the laws of nature and emphasizes man's relationship with Heaven and Earth. Image Caption Below: Rain, 2001, Black granite stone (set of 3)
Zhang Huan's work features two pandas names "Hehe" and "Xiexie", where in Chinese it means harmony. The pandas embody ideals of righteousness, perseverance, optimism and generosity, to extol the virtues of peace and harmony amongst mankind. Made of stainless steel, these works were first exhibited at the Shanghai World Expo in 2013. The artist is deeply influenced by Buddhist philosophy, and this work encourages one and all to be at peace with oneself and contribute towards a more harmonious society.
 Image Caption below: 
Hehe Xiexie (set of 2)
, 2010, Stainless steel (15 editions)
Throughout his life, Yuyu Yang sought to create works that shared his love for nature and embodied the ideals of peace and harmony between man and nation. He is considered to be a pioneering Asian artist who worked primarily in stainless steel since the 1960s, where the smooth flawless quality of these mirror-like surfaces lends favourably to the sculptures to sit well within the environment. The balance of the natural world and his sculptures had become a central theme or philosophy in his life's work. Image caption below: Mirror of the Soul, Stainless steel, 1971 (9 editions)
For the past 30 years, Sri Astari Rasjid has been creating work that deals with Javanese cultural issues within a modern cultural framework. An important part of her oeuvre has been the detrimental impact of traditional concepts on women's lives, visualized amongst others, through the kebaya the traditional blouse for women, and its related accessories. In retrospect, the kebaya was initially viewed as repressive to women, but over the course of time this perspective has changed into one of protection of the inner being. Today, it is transcending the issue of gender, as evident in this work, where the butterfly featured prominently on the sculpture as a brooch is a metaphor for change. Image caption below: Armor for Change, 2015, Aluminum (5 editions)
"ENVISION: Sculptures @ The Garden City" is part of Singapore Art Week (16 – 24 January 2016). An initiative by the National Arts Council, in partnership with the Singapore Tourism Board and Singapore Economic Development Board, Singapore Art Week reinforces Singapore's position as Asia's leading arts destination. It is a nine-day celebration of the visual arts, offering a myriad of quality art experiences, from art fairs,  gallery openings, exhibitions, lifestyle events and public art walks, to enriching discussions on art and culture. www.artweek.sg